"The Specialists in Media Sales"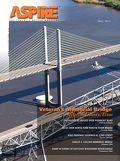 Aspire
www.AspireBridge.com
Quarterly Publication
Represented by Jim Oestmann
Telephone 847-924-5497
Fax 877-389-6781
Email joestmann@arlpub.com
Aspire is a quarterly magazine published by the Precast / prestressed Concrete Institution in cooperation with the associations of the National Concrete Bridge Council. The editorial content focuses on the latest technology and key issue sin the Concrete Bridge Industry.
From the federal, state, and local agencies, to consultants, to planners, universities and contractors, Aspire delivers to the most influential audience of more than 50,000 national stake holders.