"The Specialists in Media Sales"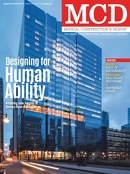 Medical Construction & Design
www.MCDMag.com
Monthly Publication
Represented by Jim Oestmann
Telephone 847-924-5497
Fax 877-389-6781
Email joestmann@arlpub.com
Medical Construction & Design (MCD) magazine is the industry's leading source for current news, technology, and methods reaching almost 29,000 key medical contrustion and design professionals. NO OTHER PUBLICATION in the field goes to as many targeted decision-makers in each industry segment.
MCD launched in 2005 and has gained quick acceptance as a major source for current industry news, technology and trends. MCD will publish six bi-monthly issues with BONUS distribution at several meetings throughout the year. Medical Construction & Design will continue to build upon it's reputation as a knowledgable, professional publication by presenting the most timely and relevant information possible. This, along with a polished, easy-to-read presentation provides the best environment for your advertising message.